Naperville Baby Photographer | Cheeky Monkey
June 13, 2022
/
/
Comments Off

on Naperville Baby Photographer | Cheeky Monkey
It is always crazy to be this far behind in my blogging because this baby boy is like three years old now! LOL  With the same big blue eyes but far more red hair.  His family has since moved out of state, but I will always remember them fondly.  I think this was him at seven months old.  So when you are looking for a Naperville baby photographer because you have a baby, don't be too strict about timeframes. Do be strict about newborn sessions, but that "6 month" session doesn't need to be exactly six months of age. What is important is that the session is nothing like a newborn session. For me, that means baby is sitting.  Some babies sit at six months of age, but for many others, they are a bit older, and that is totally fine!
But just because they are sitting doesn't mean I want them sitting in every picture.  We want variety! And getting them on their bellies, lifting up their heads to smile at me is such a treat!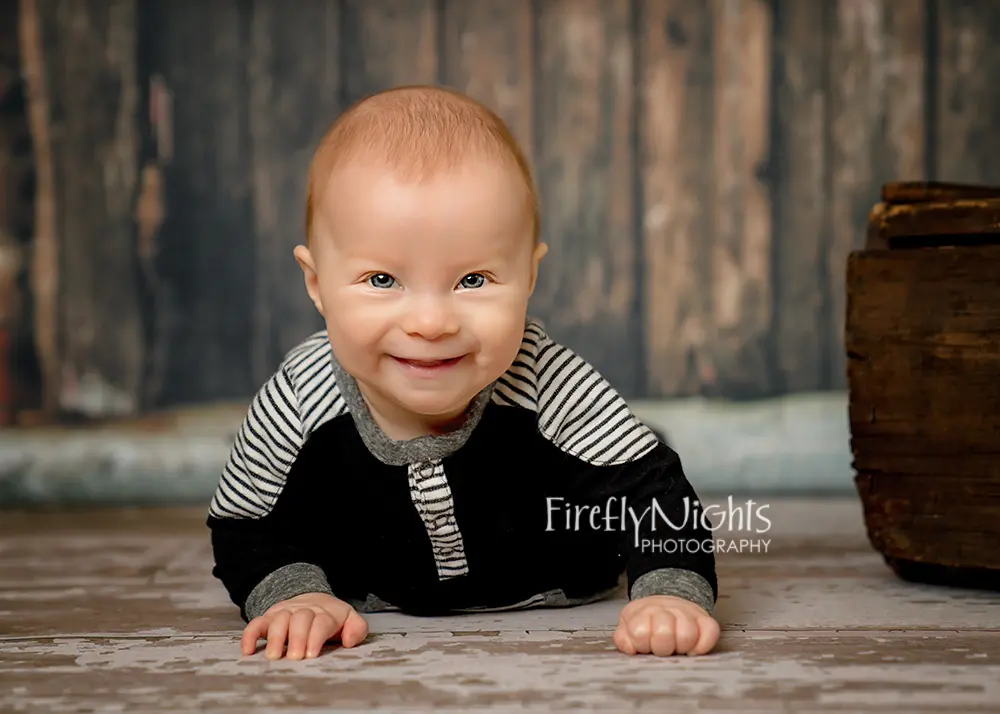 This was back when I still had a bed in my studio. I've since gotten rid of it in order to have more storage room, though I do have an inflatable mattress and beading so that I can have a makeshift bed if I need one.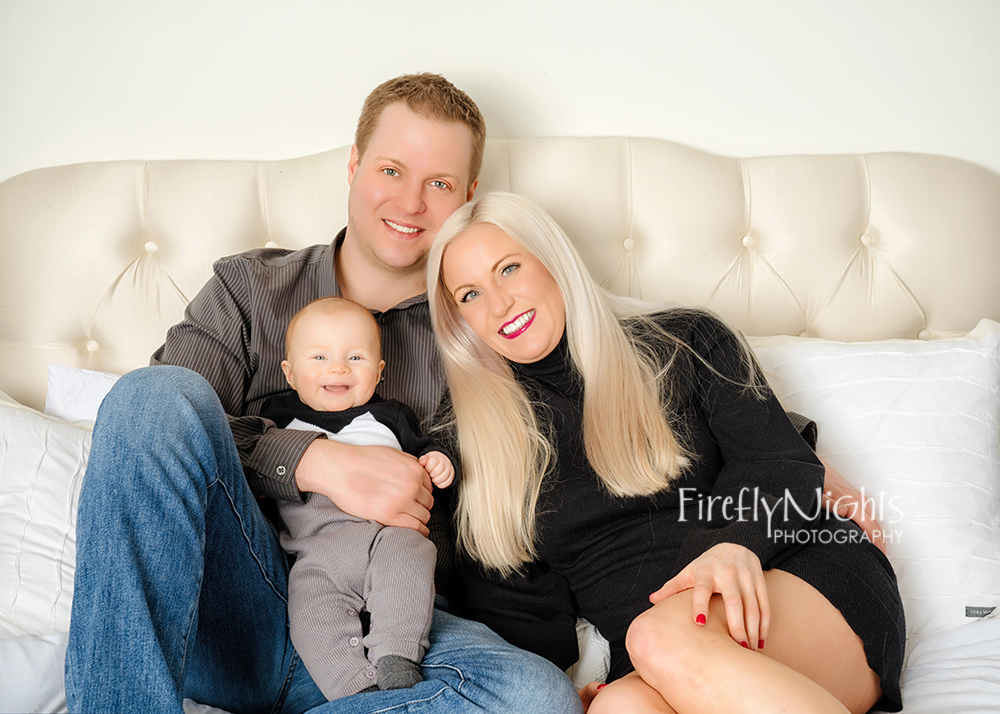 One of my favorite things to do at this age is to do some naked baby pictures. I love all the creamy colors with these.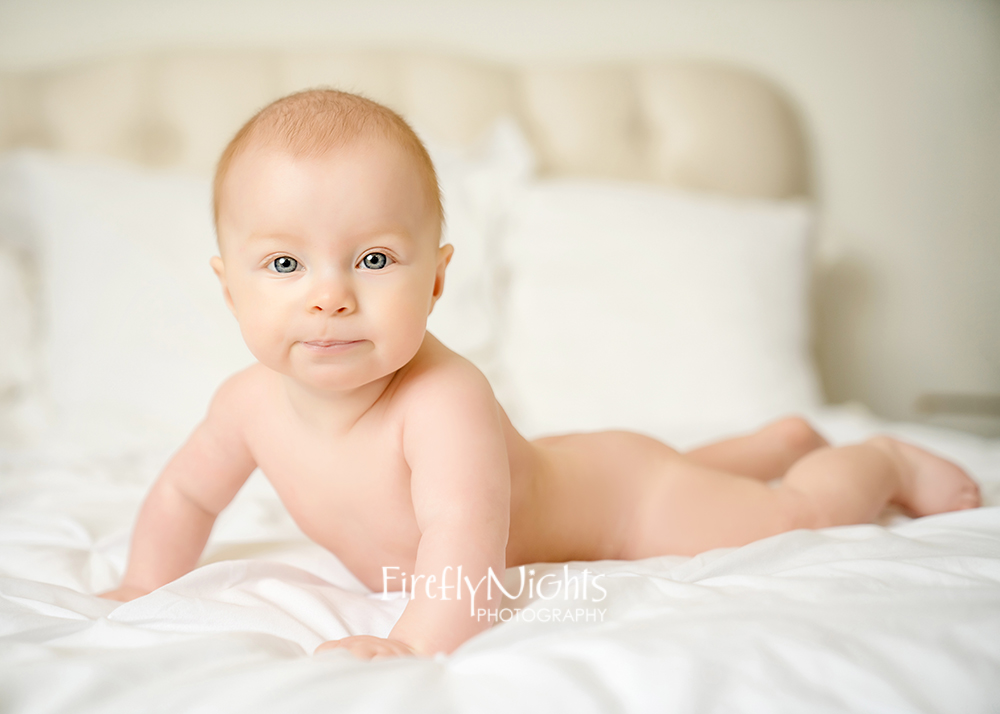 One of the reasons I love putting a baby on a bed is because it is familiar to them. Even though it isn't a bed they know, they have all been played with on mom and dad's bed at some point.  Almost every single baby gets to smiling when on the bed.  Getting them to grab their toes is definitely one of my favorite things. I just adore them sticking their tootsies in their mouths. LOL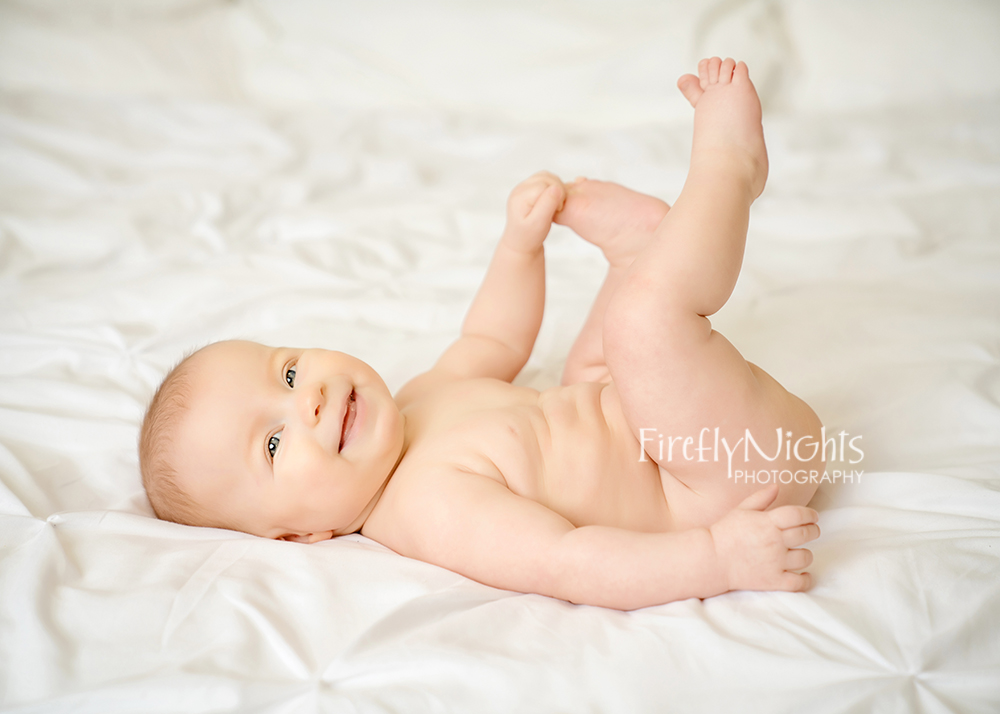 After some naked time, he got dressed again, and we played some peek-a-boo with a blanket.  Can you tell that really I just love these baby sessions because I love playing with babies?? LOL  And the best part – they seem to like playing with me, too.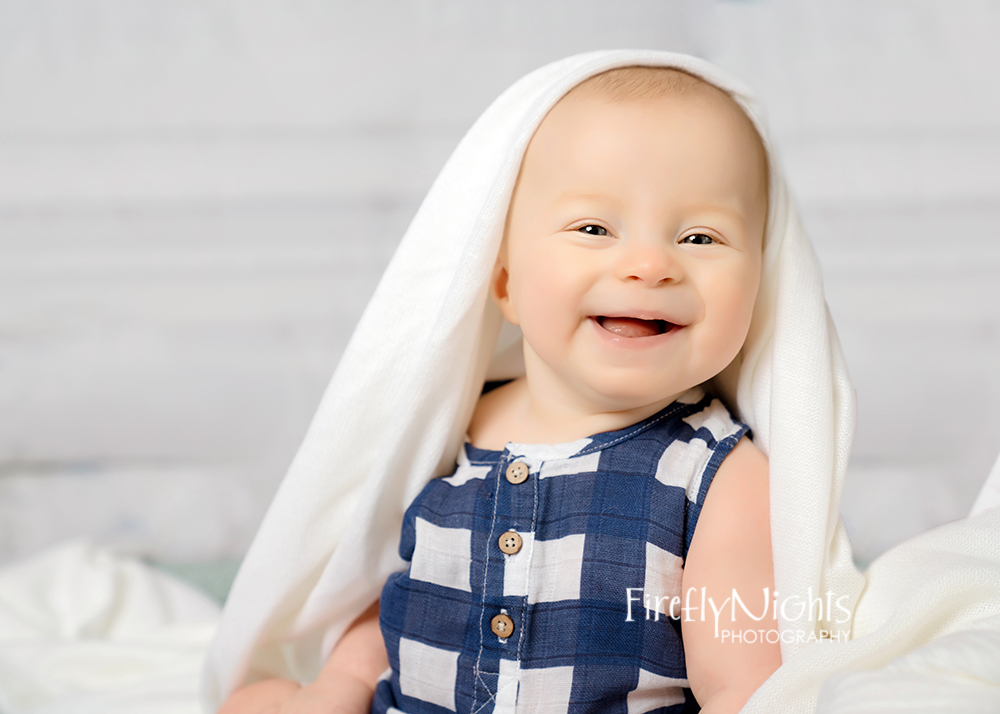 So bring your cheeky monkey little babes to me, so I can get some baby fixes! I mean, so I can create beautiful pictures for you. Yeah, that's what I meant to say. 😉
Of course, Firefly Nights Photography does more than just baby pictures.  Come check out more of our work in our Galleries section to see what all we can do for you.